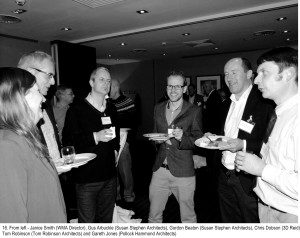 SOUTH Queensferry-based civil and structural engineers WMA chose a suitably seaside "fish and chips" theme to celebrate a successful 10 years in business, serving "poisson pane avec frites et vin" at an evening reception in the Dakota Hotel Edinburgh on January 20th.
Clients, colleagues and friends from across the construction industry in Central Scotland joined the engineering specialists in marking the occasion. Recently the company has rebranded with a new logo, literature and website and has expanded the senior team with the addition of Director, Janice Smith, who will be spearheading their BIM activities.
Over the last ten years WMA has grown from an organisation of two to one of ten and has built up an impressive portfolio of projects and clients across the UK. This includes major works such as an eleven-storey development in Piccadilly, Manchester; steel-framed industrial buildings and factories for clients such as Halls of Broxburn and Liebherr; lots of SIPS work, including a high-rise in Manchester; and timber frame flats and houses for various developers, including Taylor Wimpey.
Other major works have been insurance-funded refurbishments and rebuilding. Precast work has been very significant to WMA's success and is the specialism of Technical Director David Matthews. Most recently the company were involved in the engineering design of precast and steelwork for the new Ibis Hotel at Edinburgh Park; and currently they are working on the London City Island project with PCS Limited and Hurks Precast, where the precast value alone is £20m.
In welcoming guests to the evening Managing Director Mr Raymond Weir said, "We're delighted you could all come and help us celebrate a successful 10 years, and hope we will be working with you, as part of your teams, over the next ten. We're now focused on further growing the company and as well as rebranding, are marking our 10th anniversary by investing in our people, in new technology and in training, to take us into the next decade."