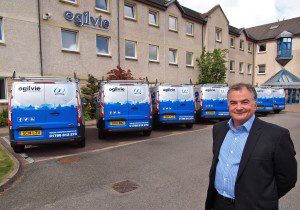 OGILVIE Construction has a new look for 2015 after rebranding the business with a new corporate identity that builds on more than 60 years of success.
Ogilvie was founded in 1953 as a construction company and is one of the country's most successful family-owned businesses, maintaining its position among Scotland's leading building contractors.
The new branding now appears on all of the company's commercial vehicles, as well as signage and stationery. It includes a unique Scottish cityscape that incorporates buildings from across the country.
Donald MacDonald Managing Director, Ogilvie Construction, said, "The new branding brings a contemporary look that reflects the quality and dynamism of our business, while at the same time recognising our traditional core values, which are so fundamental to our success and continued growth. Much of that success is the result of our people and their unstinting commitment to delivering the highest standards of customer service with integrity, accountability and professionalism."
The company delivers high quality buildings across a number of sectors including public and private sector works, as well as hotel, leisure and student accommodation sectors.
Ogilvie Construction is part of the Ogilvie Group, one of Scotland's most consistently successful family owned businesses.  The company is over 60 years old and employs over 400 people across its various business operations.