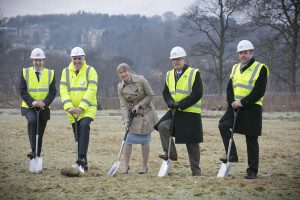 HEALTH Secretary Shona Robison MSP has cut the first ground on the £48 million first phase of redevelopments at the Royal Edinburgh Campus.

The vast programme of works will see the entire site transformed over the coming years with modern and fit-for-purpose facilities. Phase one redevelopments include new accommodation for the adult acute mental health inpatient service, older people's mental health assessment, Intensive Psychiatric Care Service (IPCU) and the new Robert Fergusson national brain injury unit. 

Cabinet Secretary for Health, Wellbeing and Sport, Shona Robison, said, "This is an important step forward for the Royal Edinburgh Hospital project, and with work now underway we are a step closer to seeing this vital new facility become a reality. This multi-million pound redevelopment will bring new, fit-for-purpose specialist mental health facilities for people living in Edinburgh and the Lothians. The site will also house the new national brain injury unit, and I'm delighted to be here to mark the beginning of phase one of the project."

Brian Houston, Chair, NHS Lothian added, "This is an extremely exciting time in the proud 200 year history of the Royal Edinburgh Hospital. The redevelopment will build on that history and, having been shaped with the help of our patients, it will allow our staff to continue to provide safe, effective healthcare and rehabilitation. Throughout the extensive planning process we listened to what mattered most to people and with the invaluable input of patients and their families, third sector organisations and staff we will have a facility we can be proud of."

The redevelopment of the hospital site is being undertaken in partnership with Hub South East Scotland Ltd, with Morrison Construction appointed as the preferred phase one contractor.

Paul McGirk, Chief Executive of Hub South East Scotland Ltd, NHS Lothian's development partner, said, "We've been involved in this project from the beginning, helping shape plans for the redevelopment and enabling works to start on site. It's exciting to now be recognising the start of construction and knowing that these plans will soon become reality.

"We look forward to continuing our successful partnership with NHS Lothian to ensure that patients will benefit from modern, fit for purpose facilities and the community will benefit from investment in the local area."

Eddie Robertson, Regional Director, Morrison Construction Scotland – Central, said, "The team has worked hard to bring us to this point and the redevelopment programme is a credit to their hard work and dedication.  This commemorative event marks the beginning of the redevelopment of the new hospital. These modern facilities will be constructed using the latest innovations in design and technology and will be well-equipped to provide secure, safe, high quality services to patients.  This unit isn't just another building, it is a high level care facility that will meet the already excellent level of service in place for patients.  

"We are delighted to be delivering this project for NHS Lothian on behalf of Hub South East Scotland Ltd and developing our already well established relationships with these partners."

The redevelopment of the campus is planned to be undertaken in phased stages, beginning with phase one. The projected timescale for completion of phase one is Autumn 2016.