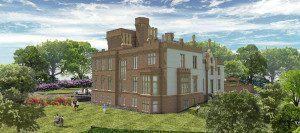 ENVESTCO have completed the first phase of the development of Birkwood Castle and estate which is being transformed into a stunning boutique hotel and residential development of luxury homes.
The company recently announced they have completed the clearance of numerous delapidated and unsightly buildings from the site leaving them free to concentrate on their stunning conversion plans for one of Scotland's most breathtaking examples of gothic architecture.
The renovation plan, which will cost in excess of £7 million, is due to be completed by April 2016. It will become another significant move in the establishment of the firm's expanding portfolio of landmark homes.
Situated in Lesmahagow, Lanarkshire, Birkwood's curious, some may say haunting past began in 1860 as a family home, before becoming a hospital for mentally-disabled children. After closing its doors in 2002, Birkwood Castle, despite its listed status, has fallen into a drastic state of disrepair, creating a significant challenge for Envestco to return the site to its former glory.
The next stage is to make the castle structurally secure before moving on to visible repairs, beginning with the castle's roof and windows, before undergoing its final detailed conversion into a top-class boutique hotel. It is intended that the site will become a major destination for weddings, conferences and special events, given its unique beauty and its natural rural setting amongst vast open woodland views.
Complementing the transformation of 
Birkwood
Castle
 will be the redevelopment of the 86 acre estate, to which Envestco have recently added a further 38-acre plot to the south east of the existing site known as Abbey Green. A major housing development will be created alongside the hotel's restoration, launching five brand-new housing areas, with further secluded plots to be transformed into delightful woodland holiday chalets. The first phase will be 8 luxurious 4/5 bed detached homes which have already caught the attention of some notable Scottish names.
Each housing area is to be naturally screened by woodland in open areas of land, retaining the perfect balance of seclusion and intimacy, while remaining connected to the overall development. A brand new network of public footpaths are to be installed throughout the grounds connecting them to the local village of Lesmahagow, bringing together residents new and old within the vast, beautiful grounds.
The mixed residential and commercial development of 
Birkwood
 Estate represents a dynamic move for Envestco and 
Birkwood
 Estates Ltd. Both firms were established by two families and business associates, the award-winning hotel operator, Chris Naylor and Dan and Joanna Lloyd. Naylor and Lloyd's passion for historic homes combined with their unique fusion of entrepreneurial experience mark the perfect partnership to maximise the extraordinary potential that 
Birkwood
Castle
 and its estate offers.