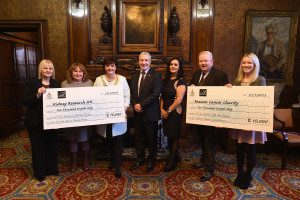 CITY Building has presented two charities with £10,000 each following successful fundraising activities.
The cheques were awarded to Kidney Research UK and Beatson Cancer Charity at Glasgow City Chambers following a charity golf day jointly organised by the construction company, and the Lord Provost's and International Office, at Sandyhills Golf Course.
City Building with support from its suppliers and staff from the Lord Provost's and International Office raised the money organising a range of activities including auctions, longest drive competitions and beat the pro challenges. City Building selected Beatson Cancer Charity and Kidney Research UK as their corporate charities as part of its community engagement programme.
They were chosen because a number of City Building staff have family and friends affected by cancer and kidney disease. Kidney Research UK is the largest charity of its kind dedicated to funding research into the causes and prevention of the disease in the UK. The money raised by City Building and the Lord Provost's office will be used for research projects to improve treatments.
Graham Paterson, Executive Director of City Building said, "We are pleased and proud alongside the Lord Provost to present these £10,000 donations to Beatson Cancer Charity and Kidney Research UK. I'd like to thank all our team and supply chain as well as the Lord Provost's Office for their generosity which has enabled us to hand over such an impressive donation."
Liz McGuiness, Kidney Research UK Community Fundraiser for Scotland "We're really grateful for this extremely generous donation from City Building, and would like to say a huge thank you to everyone involved in the Golf Day."