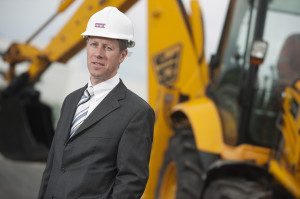 CHAP Group has reported pre-tax profits of more than £1.3million as the north-east company continues to target opportunities for growth.
The Westhill-based group operates divisions in the construction, commercial property, house building, civil engineering and quarrying sectors. Earlier this month CHAP announced a new £20m banking facility had been secured with Santander to support its focus on securing development opportunities and land acquisitions for residential and commercial projects core to its business plan.
Newly filed accounts underline the group's strong footing, with a £1.33m pre-tax profit from an operating profit of £1.53m for the year up to September 30, 2014, representing a significant increase on the previous 12-months.
The positive results, on a turnover of £37.43m, have been attributed to demand across all areas of the group as well as a streamlined business model. A positive cashflow of £4.7m in the same period has enhanced the group's capability to embrace development opportunities.
Douglas Thomson, CHAP Group joint managing director, said, "We operate in a very competitive commercial environment and these results are testament to the efforts of the whole team. Profitability has increased generally, with quarrying activities showing a particular upturn due to the level of construction taking place in the north-east throughout the 2013-14 period.
"With the announcement of the agreement with Santander, we signalled our intent to expand our development programme and we are confident that this will allow us to build on these positive results. During the 2013-14 financial year we made significant improvements to the business by introducing a new group structure, with four separate trading divisions combined under the CHAP Group umbrella. This simplified structure has increased efficiency of the reporting and administrative process, in turn enhancing profitability. There has also been targeted investment in improving IT infrastructure and in commercial reporting systems, in line with those business objectives."
Established in 1976, CHAP Group employs more than 200 people. The company benefited from a buoyant local economy during the period covered by the latest accounts but believes it is well placed to make further strides.
Douglas Thomson added, "Naturally we are keeping a close eye on the situation in the energy sector and the board is closely monitoring the potential impact of the current oil price. However, we remain confident in our own strategy and will continue to pursue opportunities across all divisions as we aim to move forward following a very encouraging year."
CHAP Group, one of the north-east's leading privately owned businesses, is headquartered at Westhill and has a quarrying operation at Park on Deeside. Its house building division, CHAP Homes, is currently developing sites in Aberdeen, Aberdeenshire and Inverness.