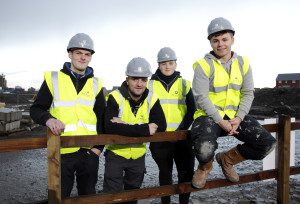 BARRATT Homes has recruited four new apprentices to its apprenticeship programme in the West of Scotland, after winning the National Apprenticeship Awards 2014 – Macro Employer of the Year.
Gary Owens and Stuart Taylor have joined the Barratt Academy as apprentice joiners, whilst Andrew Graham and Martin Herman have joined as apprentice bricklayers.
The four-year academy programme, which aims to produce tradesmen with skills and knowledge above and beyond the requirements of a standard apprenticeship, will allow each individual to achieve the Level 3 National Vocational Qualification whilst working on Barratt Homes' developments across the west Scotland division. The apprentices will also attend South Lanarkshire College on a day-release basis.
Earlier this year, in light of encouraging growth within the homebuilding industry, Barratt PLC announced that it would be taking on an extra 1,100 apprentices nationally over three years, a figure the company is already well on the way to achieving.
Craig McFarlane, Construction Director for Barratt Homes West Scotland, oversees the development of Barratt Homes' apprentices in the region. Commenting on the most recent intake, he said, "It's great to see young people interested in careers in the building and construction sector which is set to experience massive growth in the coming years. The industry offers a wide range of lucrative career opportunities and is calling out for new talent."
Those interested in applying to the Barratt Academy should visit www.buildingcareerstogether.co.uk.