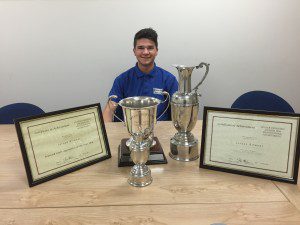 Jordan Gilmour has won the Scottish Craft Apprentice of the Year Award from the Building & Engineering Services Association.
He beat competition from hundreds of young tradesman to win the prestigious award and was presented with a trophy and £270 of vouchers at a ceremony in The Walled Garden near Penicuik.
A fourth year apprentice with Ayrshire's James Frew Ltd, he also landed the title of Pipe Fitter Welder Apprentice of the Year at the awards, which are designed to recognise outstanding achievement in the building and engineering industries.
He picked up the welding award after a demanding practical test where he pit his welding skills against three other finalists.
Jordan, (20) said: "I knew when I went to the awards ceremony that I had won the welding award but I was very surprised when they announced I had won the overall title."
Tom McManus, General Manger for Scotland for Building Engineering Services Training (BEST), said: "Jordan is clearly very competent – he came second last year in the pipe fitter category and first this year in welding. He has a very high level of skill but it is also his attitude which makes him stand out, he is known by his tutors as Happy Gilmore after the film.
"He always does everything that is asked of him with a smile and never complains or makes a fuss."
The third generation in his family to work for James Frew, Jordan's father Barry has been with the company for 24 years and his grandfather, Arlie, worked for the company for 30 years before retiring in 2009.
Jordan said, "I have always wanted to work in a mechanical job where I could work with my hands. I hope to finish my apprenticeship and work my way up in James Frew, which is a great company with lots of opportunities for young people to progress."
Jordan was nominated for the award by his tutors at Kelvin College.
Roddy Frew, Managing Director, James Frew Ltd said: "We are very proud of Jordan who is extremely hardworking and talented and is a terrific asset to the company."