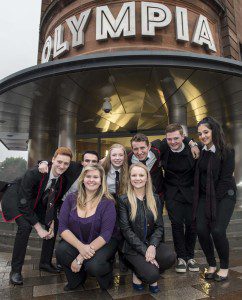 PUPILS from Trinity High School and Stonelaw High School in Rutherglen are celebrating the completion of a 10 week Get into Engineering project.
The development scheme was created in a partnership between Robertson, the infrastructure, support services and construction group; The University of the West of Scotland (UWS); the Institution of Civil Engineers (ICE) and urban regeneration company Clyde Gateway.
President of ICE, Professor David Balmforth, presented students with their certificates at the graduation event held at Clyde Gateway's offices in the Olympia Building at Bridgeton Cross.
The six pupils from fifth and sixth year have had weekly lessons since September this year. Seminars alternated between practical site visits at Cuningar Loop, which were overseen by Alexis Paris, project manager for Robertson, and research sessions at the Hamilton and Paisley campuses of the UWS, led by two third year engineering students.
Gemma Nicoll, Community Development Management at Robertson, explained: "Get into Engineering allows high school pupils the opportunity to experience different areas of the industry and also get a feel for university life. The partnership with Clyde Gateway, UWS and ICE demonstrates Robertson's commitment to contributing to the communities in which we operate within and working in partnership with stakeholders to serve this purpose."