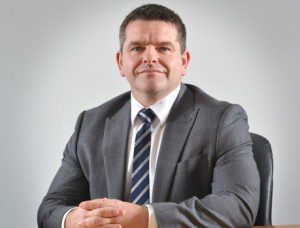 HOUSEBUILDER Story Homes has made a new recruit to its senior management team.
Frank Lincoln has been appointed as Story Homes' Production Director, and will be responsible for ensuring quality standards on its homes throughout Cumbria, the North East, Lancashire and South West Scotland.
Frank, who lives in Durham, said, "I am very excited to be working for Story Homes, a house builder that is growing rapidly and which has its own autonomy. This role is a new one for the company and offers the chance to bring in new processes and protocols, to make sure that Story Homes' excellent standards of construction are uniform across all of their developments. Chairman Fred Story and Chief Executive Steve Errington in addition to the rest of the management team are driven towards excellence and exceptional standards. The Quality of a Story Home is something that really stands out from the product. Fred won't jeopardise quality standards for money as he's passionate about people buying homes with his name above the door."
Frank started his working career as a joiner before moving into site management with Barrett, progressing to Area Contracts Manager. In 2002 he moved to Taylor Woodrow where he worked as Production Manager for three years before joining Bett Homes in 2005, first as Construction Director and then Operations Director, before leaving to join Story Homes.
In addition to Frank, Gary Coils has joined Story Homes as Production Manager for the North East. Gary previously worked for Persimmon North East and Bryant Homes.
And Julian Bulman has been promoted internally to Production Compliance Manager.
Frank said, "Forging out a new role in a rapidly growing business is very exciting. I saw the opportunity to come in and become part of a really strong team with excellent values. Garry and Julian have proved their abilities in production management and we're all throwing ourselves into the new roles and the challenges ahead with enthusiasm."