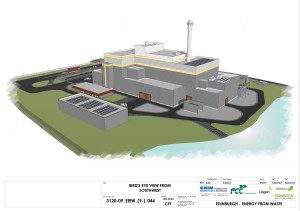 ZERO Waste: Edinburgh and Midlothian Councils have appointed FCC Medio Ambiente SA as "Preferred Bidder" to build a state-of-the-art recycling and energy recovery facility for processing household waste.
The contract is worth over £475 million (€570 million) including revenues from the Authorities, sale of heat and electricity and C&I revenue, over the 25 year contract period.
Following a formal bidding process that started in December 2011, FCC has been selected ahead of Viridor, Veolia and Urbaser, to design, construct, finance and operate the facility.
Fuelled by waste from both councils that would otherwise go to landfill, the solution represents an environmentally sustainable proposal. Saving natural resources through high recycling and green energy recovery, FCC's proposal offers best value for money to the Edinburgh and Midlothian Taxpayers.
The facility  will process over 135,000 tonnes of MSW per year and provide services to a population of more than 575,000 inhabitants. Treating municipal and C&I waste on site, FCC's proposal will help both authorities reach national targets for 70% recycling and 95% landfill diversion by 2025, as well as producing renewable energy for use in the local community.
The Energy Recycling and Recovery Facility will have a treatment capacity of over 150,000 tpa for both municipal and C&I waste and will generate over 13 MW of electricity whilst potentially providing heat for local district heating. The facility will generate the electricity equivalent of over 30,000 homes.
The project will see FCC investing over £144 million (€170 million) to develop the treatment facilities, with investments in turn benefitting local businesses and employment.
"The decision, made by Zero Waste: Edinburgh and Midlothian reflects the confidence of the Authorities in the technical capabilities and track record of FCC delivering major infrastructure projects and will consolidate its leadership position in the UK as Recycling and Green Energy Recovery player" said Paul Taylor, Chief Executive Officer of FCC Environment (UK).