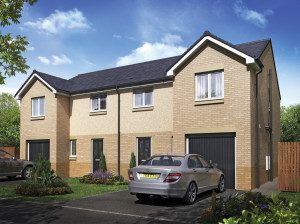 TAYLOR Wimpey West Scotland has secured planning permission from North Lanarkshire Council to deliver 222 homes in phase one of Torrance Park in Holytown.
Located on the Western boundary of the US PGA designed Torrance Park Golf Course, phase one of the multi-million pound development will showcase Taylor Wimpey's Scottish range of three, four and five bedroom homes in a variety of styles and sizes.
Embracing the Scottish planning guidance 'Designing Streets', which aims to create varied streetscapes and spaces, the Torrance Park development will create focal point features and character areas designed for residents to share and socialise in.
Character areas will feature trees, landscaping and street furniture and two 'natural' style play areas for children are also to be developed.
Stephen Andrew, Associate Technical Director for Taylor Wimpey West Scotland, added: "Taylor Wimpey is delighted to confirm that full planning permission has been granted for our land at Torrance Park in Holytown. This marks the next key stage of progress in our partnership with Murray Estates, as well as our ongoing commitment, investment and strong track record of delivering excellent quality developments in North Lanarkshire.
"Our role in the creation of Torrance Park, and our plan to embrace the 'Designing Streets' planning guidance will deliver an attractive and desirable place to live within the Holytown area of North Lanarkshire. This planning consent marks significant progress for the overall Torrance Park master plan, as well as our commitment to build new homes here.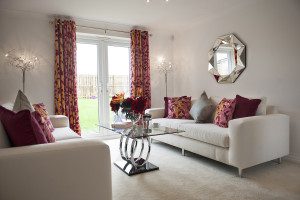 "We plan to have the first release of our three, four and five bedroom homes on sale at Torrance Park in early 2015, with the first families expected to move in towards the end of 2015.
"Taylor Wimpey is one of the largest homebuilders in the UK, helping to create new homes and communities across the country. And we're keen to make a positive contribution to the existing local community of Holytown as our development progresses."
Pre-construction works for the development are underway. As well as the 222 new homes from Taylor Wimpey, a new clubhouse, changing facilities and car parking for the nearby golf course are also to be developed.
The £60m Torrance Park development by Murray Estates Ltd secured planning permission in 2010 from North Lanarkshire Council and will also provide extensive road and infrastructure works.
Russell Wilkie, Senior Development Manager for Murray Estates Ltd, said: "Taylor Wimpey's planning consent marks the beginning of a key and exciting phase in our journey to deliver our vision that will create a vibrant mixed-use development in the heart of North Lanarkshire.
"Significant pre-construction works are already well underway and they are progressing well, so news that Taylor Wimpey will be gearing up to launch new homes for sale early in the New Year marks great progress for the development."