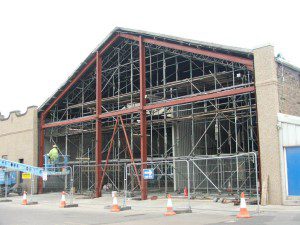 TWO Managers from The Scaffold Division of Marshall Construction are working to obtain membership to the National Access and Scaffolding Confederation.
Committed to promoting high standards of conduct and operation in the UK Scaffolding Industry, the specialist body sets trading standards and provides a wide range of guidance for contractors and operatives.
Billy Carson, Scaffold Operations Manager and Sam Bleakley, Assistant Manager, are both Advanced Scaffold Inspection accredited and work on independent scaffold inspection for a range of clients.
Billy Carson said: "Looking after Marshall Construction's scaffolding provision keeps us busy and clearly it's an advantage for the company that we don't have to hire in scaffold. But as a separate division we have our own thriving set of clients, such as many of the national housebuilders and other construction companies too across Scotland, such as Robertson Construction, Morrison Construction and the Bell Building Group.
"These companies are competitors to Marshall Construction but they don't have their own scaffolding divisions so look to us for that expertise. We are happy to tender for work from very large construction firms in Scotland and the North East of England and we want them to know that we have the necessary equipment and skills base. Winning and retaining this type of work is very important to us in growing the division. We have done very well over the last four years to build up our client base to its present level."
Sam Bleakley, who has been with Marshall Construction for nine years, added: "Billy and I work well together and qualified in the Advanced Scaffold Inspection at the same time. It is a coup for Marshall Construction to have two of us qualified in this as there are only around two training courses held each year with around a dozen people on each course."
 "Basically, being Advanced Scaffold accredited means that we can offer a full design service with drawings and can suggest forms of scaffolding which will work for challenging projects such as scaffolding hanging over water or off cranes, " said Sam. "We have also carried out a couple of projects at former whisky bonds and they can be very challenging and problematic too, due to the nature and size of the buildings."
Billy and Sam hope to achieve membership of the NACS by next year.