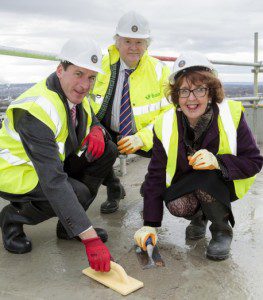 GUESTS gathered in Glasgow recently to celebrate a Topping Out Ceremony that blended a mix of Glaswegian and German traditions for CONNECT110NS in Queen Street, a new office development led by BAM Properties.
In keeping with German tradition, a tree was unveiled 138 ft (42 m) up on the building's roof. The tree was decorated with Glaswegian themed decorations from the city's crest – the bird; the tree; the bell; and the fish, to represent the successful transaction between BAM Properties and the building's new owners Deutsche Asset & Wealth Management (Deutsche AWM). BAM Properties sold the Grade A office building to Deutsche AWM in September for approximately £70 million. The ten storey building, which comprises 143,000sq ft (13,285sq m) of office space, has secured lettings from Brodies LLP and Grant Thornton UK LLP, with an announcement of another office letting imminent. Only 84,500 sq ft (7,850sq m) remains for let along with 19,000 sq ft (1,765sq m) of retail space.
Councillor Bailie Liz Cameron, Executive Member for Jobs and the Economy at Glasgow City Council was joined by John Burke, Director, BAM Construct UK and Ulrich Steinmetz, Managing Director from Deutsche AWM, the building's new owners, at the Topping Out Ceremony.
John Burke said, "By taking the risk and investing in CONNECT110NS we have helped Glasgow flourish, providing a competitive edge by creating the world class office space that professional companies are looking for and the city has been lacking. We have been fortunate to attract some of the UK's leading businesses to the building as occupiers and the investment from Deutsche Asset & Wealth Management."
Bailie Liz Cameron, Executive Member for Jobs and the Economy at Glasgow City Council, said, "I am delighted at the progress being made at 110 Queen Street with what I am sure will be a fantastic new office and retail development, bring more than 1000 jobs to Glasgow."
The building will be handed over by BAM Construction in June 2015 and BAM Properties will continue to partner with Deutsche AWM until completion and full occupancy.