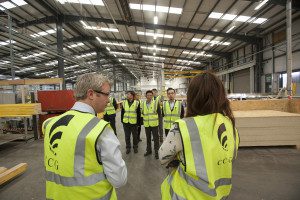 A delegation of esteemed business people from China have visited Scottish construction company CCG's innovative Off-Site Manufacturing (OSM) facility as part of a fact finding mission in Scotland. 

Representatives from the HongSheng Construction and Investment Group visited the £12 million OSM site, which manufactures closed panel units in controlled factory conditions, this week where they received a tour of the facility from CCG Chairman and Chief Executive Alastair Wylie.

HongSheng Construction and Investment Group, who have a staff of 700 based in China, were particularly interested to learn more about CCG's Off-Site Manufacturing capabilities and the potential to utilise the process on domestic projects. The visit was arranged in conjunction with sustainable construction consultancy BRE who have worked with HongSheng on other projects.
CCG worked with BRE to build their Innovation Park at Ravenscraig and the two companies have maintained a mutually beneficial relationship.

BRE is an independent and impartial, research-based consultancy, testing and training organisation, offering expertise in every aspect of the built environment and associated industries. They help clients create better, safer and more sustainable products, buildings, communities and businesses. 

CCG's OSM facility can produce over 3,000 units per annum from its 130,000 sq ft site in Glasgow. The production hub offers the sector complete flexibility in the delivery of timber systems, from a structural kit to closed panel solutions inclusive of insulation, internal wall linings, windows, doors and external claddings.

The facility was recently utilised by CCG to construct 237 sustainable homes at the Commonwealth Games Athletes Villages, with a typical terrace of 8 environmentally efficient townhouses being constructed in just 10 days.

CCG Chairman and Chief Executive Alastair Wylie said, "CCG would like to thank our guests from HongSheng for visiting us today, taking an interest in our business and letting us showcase the great work that goes on here at OSM. We are very proud of the facility and, along with our friends at BRE,  our position as innovators within the construction industry. We wish HongSheng every success in the future and will look out for opportunities to collaborate in the future."

Leanne McMillan, Sustainable Development and Accreditation Director, BRE Scotland added, "BRE are delighted to welcome HongSheng Group to Scotland and to introduce them to our Innovation Park Partners CCG who are demonstrating construction innovation within the industry. This visit will encourage and support knowledge transfer between the UK and China and will help to promote sustainable development as a result of our collaborative working partnerships."