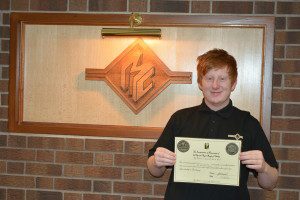 JAMIE Cumming, a 3rd year apprentice bricklayer with Alloa based Marshall Construction, has won the 2014 Incorporation of Hammermen Award in Bricklaying.
With the motto "By hammer in hand all Arts do stand", the ancient organisation of tradesmen award the prize to an individual "who has shown outstanding quality in the application of knowledge or innovation to his or her employer's business such as to result in a significant contribution to that business."
Officially established in 1596, The Incorporation of Hammermen of the City & Royal Burgh of Stirling, originally regulated hammer related tradesmen including gold and silversmiths, blacksmiths, clock makers, pewterers and addlers.  Now the organistion promote good hammer skills in tradesmen throughout the region and have forged close links with Forth Valley College which Jamie attends as part of his apprenticeship.
Head of Construction and Jamie's tutor, Ian Morrison, said:
"We have always welcomed the support and patronage of the Incorporation of Hammermen who promote and recognise a wide range of craft skills, amongst them bricklaying of the highest quality. Jamie has proved himself worthy indeed of their patronage and is performing extremely well in the college aspect of his apprenticeship. "
Mr Morrison added: "We congratulate him once again and thank Marshall Construction for bringing us such a committed apprentice in the first place. It is only through local firms, like Marshall Construction, making a real commitment to the role of apprentices in the workplace that youngsters can cite a career in construction as a long term viable option, a career which will stand them in good stead for all of their working lives."
Robert Marshall, Managing Director of Marshall Construction, said: "We are delighted with Jamie and wish to congratulate him on this prestigious award which is another feather in the cap for our apprenticeship scheme. It is very close to my heart as I believe that construction is a fantastic caterer choice for young people today."
"We have twelve apprentices across the board at the moment at Marshall Construction", Robert Marshall continued. "If you do well in construction and gain a trade the scope is endless. Some of our previous apprentices have left and started their own businesses, which sets them up for life. Most of our managers are self-generated too so we look after staff we have trained to our own standards."