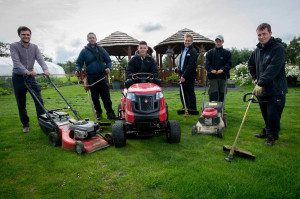 PLANS for a community wind farm, which is to be determined this week by East Ayrshire Council, have received overwhelming support from the local community.
Banks Renewables, the firm behind the High Cumnock Community Wind Farm proposals, has now received over 350 letters of support from local residents who are keen to see investment in the area.
Additionally, the community councils of Netherthird & District, Logan & Lugard and Cronberry have given their full backing to the plans. The proposed wind farm would inject an estimated £33 million into the local economy over the lifetime of the site.
Local businesses are also rallying behind the project, which would see contracts worth up to £5 million being awarded to local firms during its construction.
Around 375 individual letters have now been submitted to the Council urging them to approve the development. With a decline in the local economy resulting in fewer jobs and skills opportunities, the proposed development could provide a vital lifeline for the area.
Local firms including Barr Quarries, Ian Watt Haulage and Duncan Plant have openly backed the plans. Ian Watt, owner of Ian Watt Haulage, said: "The commitment offered by Banks Renewables is great news for the local area as it offers opportunities for contractual work. More importantly it allows us to plan for the future, protecting the jobs of local people and opening up further employment opportunities."
Director of Banks Renewables, Colin Anderson, said: "Having listened closely to the people living and working across Cumnock and Doon Valley over the past two years we have now developed a site capable of delivering tangible and meaningful benefits tailored specifically to meet the needs of the local communities.
"What we heard was that gaining access to jobs, skills or training opportunities was proving difficult. To help tackle this issue we will provide an opportunity to support 60 new traineeships through an agreement with Netherthird Community Action Training – should the development be given the go ahead."
Netherthird Community Action Training (NCAT) is a social enterprise providing traineeships to 17-24 year olds not in education, employment or training.
Jamie Campbell, founder of NCAT, said: "The proposed partnership with Banks Renewables is an extremely exciting opportunity for us.
"It's refreshing to see a company, taking responsible steps like this and I hope the wind farm will be approved as it will be a truly exceptional asset that could make a genuine difference to the people who live in the surrounding areas."
Local community groups including New Cumnock Angling Association (NCAA) and Cumnock Juniors Community Enterprise have also been impressed by Banks's commitment to the community.
Bill Duncan, secretary of the NCCA, said: "We believe that a responsible wind farm development can be an asset to communities and provide ongoing benefits."
The wind farm would also bring a host of ecology and wildlife benefits, including extensive woodland and hedgerow planting and the creation of 5.8km of new recreational tracks.