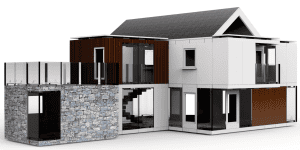 A new architectural model making system won two major awards at the prestigious London Design Awards 2014 ceremony. ARCKIT received the Best Start-up Product award for their innovative modelling kit that brings architectural designs to life. Enabling students to express their creativity and explore ideas, the system was also recognised with a Silver Medial in the Educational Product Design category.
Made from recyclable materials, ARCKIT advances the traditional 'cut and glue' model building techniques. The system is significantly faster to assemble, can be endlessly changed after building and allows architects, homebuilders, students and hobbyists to construct affordable models of their designs.
Damien Murtagh, the founder of ARCKIT, said "We're really proud that the universal appeal of ARCKIT was appreciated by the judges. We set out to create a system that would transcend age and have the sophistication to meet the needs of a range of different users. Professional architects, as well as a number of Universities, are already using the system and ARCKIT is even being stocked at the world-famous Harrods store. ARCKIT is a product for life, we envisage a young student using the same kit throughout their entire professional design career."
ARCKIT has been described by global architect Sir David Chipperfield as 'sophisticated Lego' and by budding architects as 'reality Minecraft'.
Advancements in digital technology have previously overshadowed physical model making due to the time restraints, logistical complexities and cost-constraints involved. ARCKIT combines digital and physical design to realise ideas quickly and cost-effectively.