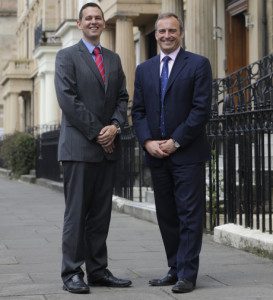 WHITECROSS Building Consultancy, a young and dynamic firm of Chartered Building Surveyors with a high calibre of UK clients, has announced the arrival of Robin Golder as part of their business expansion.
Whitecross was established in 2010 by Graeme Scott, a Partner from King Sturge LLP, and is now a successful building consultancy, which has more than doubled its turnover in three years. The firm advises clients throughout the UK and provides specialist Building Consultancy and Project Management services across all sectors of the commercial property industry, from large industrial and office space to leisure and retail.
Recent instructions include acquisition surveys of a portfolio of six different industrial estates across Scotland for Cedarwood Asset Management, including fire reinstatement cost assessments, with a total floor area of around 230,000 sq. ft.; acting as contract administrators for Wetrooms Distribution on the refurbishment of their new headquarters in Glasgow; providing dilapidations advice to Clyde Space throughout the UK; acting for House of Fraser in relation to their property portfolio in UK; and advising Pandora on their current store roll out and fit outs.
Robin joins Whitecross from the Building Consultancy team of Jones Lang LaSalle and has over 15 years experience working with key industry players in building surveying services including dilapidations, contract administration, project management, feasibility studies and refurbishment programmes.
Managing Director, Graeme Scott said, "We are delighted to welcome Robin to the team. The business has expanded significantly since it's inception four years ago and Robin will be a great asset to our clients. It is a busy time for us – we have certainly seen some uncertainty amongst our clients in the run up to the Scottish referendum and they were stalling some of their projects until the vote, however now we are already seeing that work progressing."
Robin Golder added, "It is an exciting business to be part of, especially as they are a young and growing business with lots of energy and enthusiasm. Clients today are more sophisticated – they are seeking expert advice and commitment yet want to ensure they are receiving a service that takes account of their specific needs and individual business objectives. Whitecross offer a unique and bespoke client approach and we are able to adapt our skills to meet those client demands as well as having the resources at our disposal (if required) to deliver them."