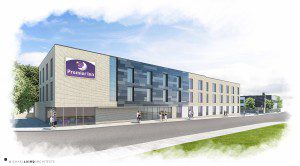 CONSTRUCTION has commenced on a new 65 bedroom Premier Inn hotel and Marks & Spencer Simply Food retail unit in St Andrews. The Largo Road site, a now derelict, former abbatoir complex will be demolished within six weeks and replaced by the new development.
Since obtaining planning permission in January 2014, Crucible Ltd have been gathering all necessary Building Warrants and completing detailed designs of the development as required by Fife Council. With the necessary paperwork finalised the development is due for completion in the early summer of 2015.
Brian Robinson, development company spokesman for Crucible Ltd, has said: "We are delighted that the people of St Andrews can now see something coming out of the ground on this site. We have been involved in the project for more than two years and it is extremely satisfying to see the construction of the development commencing. A huge amount of effort has gone into getting to this stage and we are hopeful that the construction phase of the development will progress smoothly."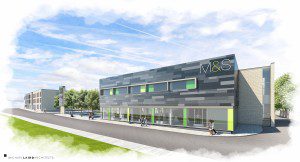 Regarded as one of the most attractive property investments in Scotland, Crucible Ltd have now signed a funding agreement for the development with clients of Aberdeen Asset Management. Aberdeen Asset Management's Assistant Fund Manager, Laura Hughes, commented: "We are delighted to have been able to fund the development in partnership with Crucible Ltd. The location of the site and tenant line up, with both Marks & Spencer and Premier Inn signed up on long term leases, means this is an extremely attractive investment for our clients."
Stuart Orr of FB Burnett, property advisors to Aberdeen Asset Management, added:"The strength of St Andrews' tourism is well understood and it is clear that with the average cost of a hotel room at nearly £170 per room per night, St Andrews needs a hotel operator such as Premier Inn to provide a more affordable offer, and hence we expect it to trade well. Similarly, the demographic of St Andrews is such that we expect Marks & Spencer will trade well from this location. This therefore represents a very robust and defensive acquisition for Aberdeen Asset Management's client and I look forward to seeing the completed development."
Development began on Monday 27th October 2014 with Crucible Ltd having appointed ISG Construction Ltd to build on their behalf.  Throughout procedures Crucible were advised by Capita with FG Burnett representing Aberdeen Asset Management.