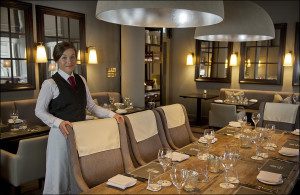 THE Western Club, a private members club established in 1825, has opened its doors to give the public access to its new restaurant.
The launch of the Western Club Restaurant, on the first floor, gives the public limited access to the club premises for the very first time. Scotwood interiors, which specialises in the refurbishment of commercial and business premises, has created the new restaurant which is also part of the Urban chain.
In the early 19th Century, as Glasgow grew through industry and trade, a group of 30 gentlemen decided to create a club that would rival the calibre of those they had seen in London and Edinburgh. The Western Club started off small with only 130 elected members.Over the decades, while other UK clubs were less fortunate, The Western survived through growing membership and the amalgamation of other Glasgow based clubs. Continuing their forward thinking approach The Western is now working with Glasgow-based restaurant chain Urban, to open to the public for the first time ever.
To ensure a sleek finish, Scotwood were appointed by project managers Keynorth to decorate the new restaurant including new lighting and floors as well as a full redecoration of the club's reception area. The newly formed restaurant, designed by Amanda Rossa, Interiors Limited is located on the 1st floor, meaning the public will have access to The Western Club for the first time ever.
Scotwood started the contract in August and in just 10 weeks completed the project on time and on budget. Douglas Kerr, Joint Managing Director, Scotwood, said, "Working with The Western Club, as they begin a new chapter opening to the public, was an honour for us and we were very excited to work alongside both The Western Club and Urban to help make this happen."