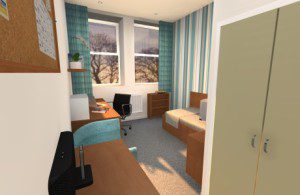 MAIN contractor GRAHAM Construction has started work on the £7.5 million project to transform Blythswood House on Glasgow's West Regent Street into state-of-the-art student accommodation for The Glasgow School of Art.
The project will create 218 study bedrooms, all of which will include en-suite bathrooms.  As part of the redevelopment project, common rooms and ancillary space will also be created on the site. A number of accessible study bedrooms will be provided to cater for students with hearing, visual and other impairments.
Working on behalf of the developer Cityheart Ltd, GRAHAM have already started the internal strip out of the former office building and work is already under way to install new internal walls on the third, fourth and fifth floors.
GRAHAM has significant experience of creating student accommodation projects for colleges and universities around the UK, including at West of Scotland in Paisley, Edinburgh, Stirling and Newcastle. Redevelopment of the former office development Blythswood House, which is located just off Blythswood Square, started on June 30 2014 and is expected to take 64 weeks until autumn 2015.
Contracts director at GRAHAM Construction John McHugh said, "This will be an interesting construction challenge as we will be retaining the building frame and shell. The Blythswood Square location offers tremendous accessibility to The School of Art and we look forward to delivering accommodation which will offer a fantastic addition to the student facilities in Glasgow."
The study bedrooms at Blythswood House will be arranged in clusters of flats of between 4-8 beds, with communal kitchens and living room areas.
Additional facilities will include a centralised laundry, reception area, administrative space and storage room for bicycles. It will also contain two self-contained apartments for senior wardens.
A spokesperson for The Glasgow School of Art said, "The GSA is committed to offering access to high quality, affordable accommodation for its students. This new development includes a wide range of facilities both in the study-bedrooms and in the communal areas that set a benchmark in student accommodation. The development also benefits from its proximity to both The Glasgow School of Art and the many amenities in Glasgow city centre."
As part of the redevelopment of the building, GRAHAM is providing additional insulation to improve the building's environmental credentials and is replacing all of the windows. All bedroom clusters will get central heating, while bedrooms and common rooms will benefit from natural ventilation. GRAHAM will also provide additional street and exterior lighting and will upgrade road access where required.