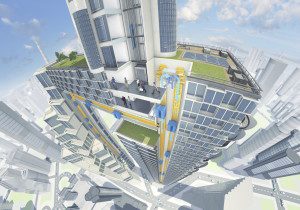 THYSSENKRUPP have developed the world's first rope-free elevator system.
Placing linear motors in elevator cabins, ThyssenKrupp are transforming conventional elevators into modern, vertical metro systems. MULTI elevator technology increases transport capacity and efficiency with several cabins able to operate vertically and horizontally in the same shaft.
The first MULTI unit will be tested by 2016.
Presented as a landmark revolution in the elevator industry, the MULTI design functions in a similar way to conventional metro systems. With various self-propelled elevator cabins operating in a loop, shaft transport capacity could increase by as much as 50%, reducing the elevator footprint in buildings by half.
Building design will no longer be limited by the height or vertical alignment of elevator shafts, opening new possibilities to architects and building developers.
Andreas Schierenbeck, CEO of ThyssenKrupp Elevator AG said:
"As the nature of building constructions evolve, it is also necessary to adapt elevator systems to better suit the requirements of buildings and high volumes of passengers. From the one dimensional vertical arrangement to a two dimensional horizontal/vertical arrangement with more than one or two cabins operating in each shaft, MULTI represents a proud moment in ThyssenKrupp's history of presenting cutting-edge transport technologies that best serve current mobility needs".