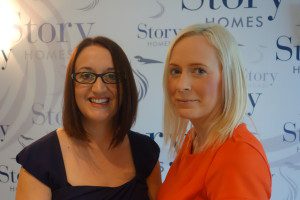 STORY Homes has recruited two HR professionals to help with the business's new growth and development plans.
It is the first time that Story Homes has had a dedicated HR team following the legal separation of Story Homes from its sister company Story Contracting, with whom HR was previously shared.
Francesca Stott has joined as Head of HR, bringing with her a breadth of considerable experience from her previous employment at Nestle, npower and Vodafone.
HR Advisor Helen McGuinness joins from Cumbria Partnership NHS Foundation Trust. Having previously worked for major contracting firm Hertel, McGuiness has sector-specific experience of the construction industry.
Francesca said: "I am delighted to join Story Homes. It's so rare to get the opportunity to set up a department from scratch within such a successful and admired business.  Story Homes has an ambitious business plan which will see us continuing to make significant investments in our people who are genuinely at the heart of everything we do."
To support the business's ambitious growth plans the HR team will focus on recruiting new colleagues, developing existing colleagues and launching an Apprentice and Graduate programme in autumn 2015.
Story Homes currently employs the equivalent of 110 fulltime staff across a range of sectors including Land, Technical, Commercial, Production, Sales and Central Support. With a further 50 members of staff on sites across Cumbria, South Scotland, the North East and Lancashire, the company expects employment numbers to double over the next three years.
Francesca added: "Focusing on how we develop and progress our existing colleagues is a significant priority for us over the next three years along with attracting new talent to Story Homes. The current national and local skills shortage within the house building and construction sector presents us with a really great opportunity to develop a clear people strategy aligned to our business plans, paying particular attention to our growth in Cumbria, the North East and the North West.
"At Story Homes our focus genuinely is on quality people, quality product, and it's fantastic to be able to contribute to the growth of such a well respected, successful organisation."