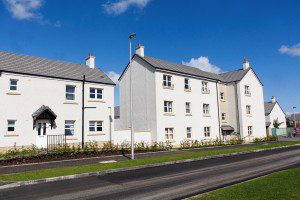 MACTAGGART & Mickel Contracts, a division of the award-winning Mactaggart & Mickel Group, have handed over the keys to a £2.7 million social housing development in Dalkeith, Midlothian.
Part of the company's Thornybank Green project, the site was delivered on behalf of Places for People, a property management, development and regeneration company, and Castle Rock Edinvar, one of Scotland's leading housing associations, providing much needed affordable stock to the local community.
Featuring 25 residential units – 11 social housing properties for Castle Rock Edinvar and 14 for mid-market rent through Places for People Scotland – the development was handed over in a walk-in condition with over 50 residents now living on site.
Peter Shepherd, director at Mactaggart & Mickel Contracts, said: "We have been delivering developments in and around the Edinburgh area for a number of years but it is particularly gratifying to be handing over these affordable new homes which we hope will make a big difference to the lives of their new tenants.
"There remains a shortage of social and mid-market housing in Scotland and a necessity for the public sector and private organisations like ours to work together effectively to meet demand. Our extensive construction experience and commitment to effective design means we are able to offer value for money without compromising on quality of build."
Housing Minister, Margaret Burgess said: "High standard quality housing can transform people's lives, which is why the Scottish Government is committed to ensuring that everyone can live in affordable and energy efficient homes.
"The Scottish Government's grant of £960,000 to this development in Dalkeith will provide tenants with new homes for rent that meet this criteria.
"Maximising the supply of affordable housing continues to be a high priority for this Government and we are working with the entire sector to achieve this across Scotland."
Councillor Owen Thompson said: "We know that good, quality, affordable housing can make a huge difference to people's lives and we're delighted to welcome this latest development to Midlothian.
"As one of the smallest local authorities in Scotland, we have an excellent track record in providing low cost homes for affordable rent. It's one of the Council's top priorities and these new homes will only add value to the local community and housing stock."
Alister Steele, managing director of Castle Rock Edinvar, commented: "We are delighted to be contributing to new housing supply again in Midlothian. This development helps create new opportunities for affordable rented housing, combining mid-market rent that targets economically active households earning below average incomes and social rented housing.
"We are pleased to be building on our relationship with Mactaggart and Mickel, and we are now in discussions with them about extending that relationship in Midlothian to a new development at Millerhill."
 For more information on Mactaggart & Mickel Contracts please visit: http://www.macmic.co.uk/Contracts