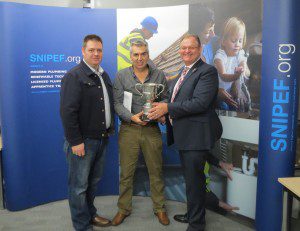 Edinburgh College graduate Ian Flockhart picked up the top award at the 13th annual Apprentice Prize Giving Ceremony. Organised by the Scottish & Northern Ireland Plumbing Employers' Federation (SNIPEF), the awards celebrate the achievements of plumbing apprentices from the three colleges in the Edinburgh and District region that deliver the industry-approved apprentice programme: Edinburgh, Borders and Forth Valley Colleges.
Ian, a mature student from Edinburgh, received the prestigious David More Trophy for best overall apprentice in the region after working with Heating Scotland Ltd in Tranent during his apprenticeship. Currently self-employed, Ian previously worked in the print trade and as taxi driver before retraining as a plumber.
Decorating, plastering and plumbing lecturer at Edinburgh College, Andrew Golightly said: "We're delighted that Ian was recognised by SNIPEF. He came to Edinburgh College as a mature student and has now graduated. He showed dedication and a commitment to learning by retraining in a new career as a plumber, undertaking four years of training to complete the industry-recognised and approved programme."
Ian Flockhart added: "I'm really chuffed to get this award from the plumbing industry itself. It was a big decision to retrain at 52 years of age but it was a good decision. I enjoyed my apprenticeship and relished the opportunity to learn as much as possible. I enjoyed the college experience, even though I was the oldest in the class by a mile! I am now self-employed and looking forward to the challenges ahead.
Award presentations were made by Robin Hall, past president of SNIPEF Edinburgh and District Branch, and Robert Beagley, regional director of Plumb Center, who donated the prizes of tool vouchers.
BPEC, the plumbing and heating industry's certification and training organization sponsored the awards. Delivering UKAS and Ofgal qualifications for the industry, BPEC are committed to a number of charity of organisationations looking to raise skills by reinvesting profitsinto the industry.