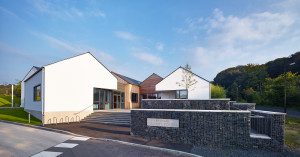 AT this year's Glasgow Institute of Architects [GIA] Design Award ceremony, held in Oran Mor on Friday 14th November, Holmes Miller secured the 2014 GIA Education Design Award for Kirkmichael Primary School.
The new Primary School's distinctive design is founded upon an appreciation of South Ayrshire's rural character and the way in which its landscapes and settlements interact. Kirkmichael is a quaint, picturesque conservation village between the green fields of Carrick and the woods of the Galloway forest park. This rural area is characterised by its white harled buildings, distinctive gable ends and farm steadings. Holmes Miller's approach was to design a bespoke yet modern building in harmony with the surrounding landscapes and local rural lifestyle, which would be sustainable in the long term also.
The resulting design establishes a clear civic presence within the neighbourhood whilst creating an engaging focal point for local residents. The building's form is Holmes Miller's interpretation of disaggregated farm steadings and the structures are clustered together and linked by steep wave-like roofs that run above the simple, narrow floor plans typical of most rural designs. External finishes of render, timber cladding, stone and slate create a professional contemporary style with a robust and low maintenance clipped edge finish. The design is accentuated by a distinctive green roofline technology that further integrates the building into its rural backdrop.
By lowering the scale and height of the building the exterior is gently nestled into the surrounding landscape. Inside the school, bright and open teaching areas are found within stimulating spaces to create interactive and inclusive environments.
Designed to feel both secure and welcoming, the building has a variety of spaces to encourage social and educational interaction. With regards to the building's function Holmes and Miller have discussed the need to maintain a human scale to their design to ensure a comforting environment. Separate access points ensure that the teaching areas are secure when the hall is in community use to make sure pupil safety is never compromised. The sophisticated entrance design has direct and separate accesses to be used by both the school and the community. This shared use of the building has created a communal and socially inclusive experience and with outdoor seating and plants there is a welcoming space for visitors also.
Built to accommodate 75 pupils, the school encourages closer joint working among education, health and social work agencies and greater pupil and parental involvement in schools, with an improved support provision for vulnerable children and young people.
The playground is a mixture of soft and hard landscaping to create points of interest and includes an amphitheatre style seating area for informal and external teaching spaces. The outdoor areas have been designed in line with the rural surroundings as the soft landscape spaces have local flowers planted around them. The external landscaping was designed to provide interest year round but with specific regards to school term times.
Following the building's completion the school's head teacher, Karen Butchart exclaimed, "The new building has exceeded all our expectations and the children were in complete awe when they finally saw their school. The joy in their faces as they entered the building for the first time was very special and I know we're all going to be very happy in this great new school!"