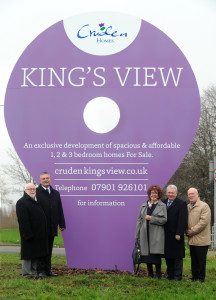 CRUDEN Homes' affordable new housing development has been officially named King's View.
The naming ceremony was held on site in Glasgow's South Side at Prospecthill Road. Bailie Cameron, Executive Member for Economic Development named the new development and was joined by Cruden Homes' Managing Director, John Gallagher and Chair of Glasgow Housing Association, Gordon Sloan to unveil the project's new signage: a giant five metre structure representing a Google map pin.
The £6 million development will comprise 55 one, two and three bedroom homes for private sale. Homes will be sold 'off plan' in advance of the properties being built.
Following their huge success as part of City Legacy Consortium in delivering the Commonwealth Games Athletes' Village in Glasgow's East End, Cruden is again regenerating the South of the city. King's View is being constructed on a brownfield site that is currently one of Glasgow's eight Transformational Regeneration Areas (TRAs).
Cruden is also currently building 100 homes in the area for tenants of Glasgow Housing Association.
The TRA programme, delivered by Transforming Communities: Glasgow, a partnership of Glasgow City Council, Glasgow Housing Association and the Scottish Government, will deliver a major economic boost, deliver new homes and community facilities and create new jobs. Cruden are also hoping to develop apprenticeships, training and employment for the community as well as recruiting a number of local sub-contractors.
"It's not only the unusual sign which will put King's View firmly on the map in this area," said John Gallacher of Cruden Homes. "We are very excited about this latest development and having the opportunity to create a brand new vibrant community on the edge of Glasgow's King's Park."
"Cruden is proud to play its part in delivering much-needed new affordable private housing at King's View and by working in partnership with GHA we are building a new mixed tenure community in this part of Glasgow.
"We expect the King's View development will attract the same high level of demand for quality, affordable homes that we witnessed at The Village.  Buying 'off plan' is again becoming the norm for new housing developments and allows the buyer to prepare and plan their finances six to nine months in advance."
Bailie Cameron, Chair of Transforming Communities: Glasgow and Executive Member for Jobs and the Economy at Glasgow City Council, added: "I am delighted to see the launch of this affordable housing development, a key part of what the partners in Transforming Communities: Glasgow wish to achieve in this area.  New homes of high quality and further economic activity can only be good for the city."
The first phase sales launch is scheduled for January 2015. The 55 private houses will be priced between £75,000 and £160,000.