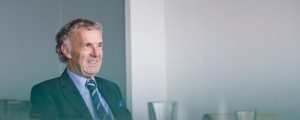 FORMER Mactaggart & Mickel chairman Derek Mickel has died suddenly while on holiday in Feurteventura.
Tributes have been paid to the 79-year-old Scottish businessman who passed away on Saturday 15th November. A spokesman for Mactaggart & Mickel and the Mickel family has said it is with "great sadness" that Mr. Mickel's death has been confirmed.
He further added: "Mr. Mickel was a prominent Scottish businessman having joined the housebuilder as a third-generation family member in 1961, becoming a director in 1966 and serving as Chairman of Mactaggart & Mickel for 8 years up to 2012."
Derek Mickel continued as a Director in the business with his son Andrew, a fourth-generation family member, joining the company in 2000 before becoming Homes Chairman and Group Director.
Due to the sudden nature of Mr. Mickel's death a post-mortem is likely and therefore no further details are presently available.
The family and business spokesman has asked for "a period of privacy and respect to be observed at this time."