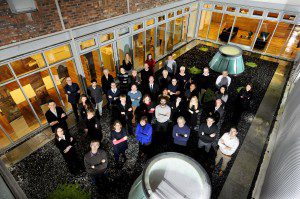 ONE of Scotland's leading architecture firms is celebrating after success at two different events in the space of just two days.
Glasgow-based Page\Park were named the winners of the GIA Conservation Design award in recognition of their work revamping the famous Kelvingrove Bandstand, which was first built in 1924.
The award came after the company was highly commended as an Employee Ownership Rising Star at the Philip Baxendale Awards the previous evening.
The company, which employs 48 staff and has a turnover of £3.4m, became employee-owned in 2013 with support from Co-operative Development Scotland (CDS). Karen Pickering, head of creative workspace at Page\Park, said, "We were thrilled to work on Kelvingrove Bandstand, which we know has a special place in many people's hearts in Glasgow, so to win this award is very satisfying. Our employees are at the heart of everything we do, so for this to following being highly commended at the Philip Baxendale Awards is fantastic.
"We have always been a collaborative business and employee ownership has only furthered that. Everyone in the practice is united towards a common goal and that is ensuring we continue to deliver brilliant work for our clients."
Established in 1981 by founders David Page and Brian Park, the company has worked on projects including The Lighthouse in Glasgow, Rosslyn Chapel near Edinburgh and the capital's Scottish National Portrait Gallery.
Sarah Deas, chief executive of CDS, added, "Page\Park is a shining example of how employee ownership can benefit a company and its staff. Employee-owned businesses give employees a meaningful stake in their company together with a genuine say in how it is run. Page\Park's success is driven by performance and it is fantastic to see this being recognised by the Philip Baxendale Awards."