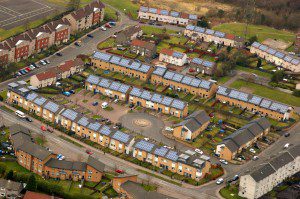 EDISON Energy is playing a lead role in Europe's largest ever crowd funded solar energy project.
In partnership with Oakapple Renewable Energy, the Glasgow based company is working to install up to 749 roof-mounted solar PV systems, with a total capacity of 2,595 kW for Berwickshire Housing Association (BHA).
The 'Oakapple Berwickshire' development will be installed on houses across Berwickshire over a fourth month period. Hoping to reduce tenants' energy bills by as much as 30% without any additional costs to tenants, the project will include houses in Duns, Eyemouth and Coldstream.
Chairman of Oakapple Renewable Energy, Phil Taylor, said: "We were delighted to be approached by Edison Energy to partner them in this extremely worthwhile scheme. They have an excellent reputation in providing sustainable energy solutions to social housing and it is great that we are able to provide solar power to benefit the tenants of BHA who may be struggling with their electricity bills.
Financed by Abundance, the UK's largest ethical investment platform, the £3.1 million scheme is the latest in a range of developments for Edison Energy, including the Commonwealth Games Athletes' Village in Glasgow.
Regarding the project, Business Development Director, Fraser MacKenzie commented: "We have found our natural partner in Oakapple Renewable Energy and the fact that we are able to fully cover the costs of Solar PV projects makes it an attractive proposition and we would welcome the opportunity to talk to other housing associations who might like to help their tenants benefit in a similar way."
Helen Forsyth, Chief Executive of the BHA, spoke positively of the financial benefits solar panels can create: "Our tenants living in these solar powered homes will enjoy a substantial drop in their energy bills, with as much as a 30% reduction saving potentially over £100 per home a year, without having to pay anything towards the project.  We're determined to do what we can to address fuel poverty and, working with Oakapple Renewable Energy, Edison Energy and Abundance, is a fantastic way to tackle the problem."