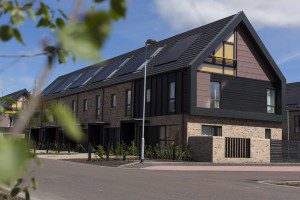 CITY Legacy, the consortium which designed, constructed and delivered the Athletes' Village has been presented with three planning awards at one of the Scottish Government's most prestigious events.
Named as winners at the Scottish Awards for Quality in Planning, the joint entry from Glasgow City Council and City Legacy team came out top in the 'Development on the Ground' category. City Legacy also won the 'Delivering in Partnership' award, and to top of a fantastic night, the Athletes' Village was crowned the overall winner on the night.
The Athletes' Village, which lies in the East End of Glasgow approximately three miles from the City Centre, regenerated and redeveloped 35 hectares of brownfield land. It was the temporary home to 6,500 athletes and officials during the 2014 Commonwealth Games and will now be transformed into a vibrant family–orientated community with 300 private homes and 400 houses for rent.
The win is a clear indication that the planning aims set out at the start of the project in terms of regeneration, sustainability, innovation in design, wider connectivity and integration with the surrounding areas have all been achieved.
Calum Murray, Director of CCG, represented City Legacy at the award ceremony. He accepted the award alongside Forbes Baron, Head of Planning at Glasgow City Council at the event held in The George Hotel, Edinburgh.
"We are absolutely delighted to have won these prestigious awards – to win one was fantastic but all three is a momentous achievement – it's was a very proud night for City Legacy," said Mr. Murray. "The Athletes' Village is a fantastic example of urban regeneration, turning what was an oasis of dereliction into one of the most celebrated residential communities Scotland has ever seen. The interest which has been shown in The Village at home and from all over the world is testament to the quality of investment in planning and design made by City Legacy –an investment which it has sustained throughout a six year journey. This award is a tremendous achievement for everyone who has been involved in designing, constructing and delivering this exemplar development."