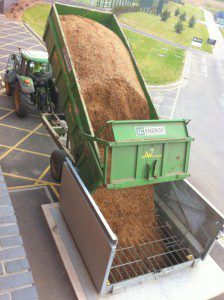 LC ENERGY, one of the UK's leading specialists in sustainable wood fuel supply, is set to expand further with the recent acquisition of Ecolyf.
Following the takeover in August, LC Energy is now one of only a handful of UK companies to provide a one-stop biomass service covering the supply, installation, fuelling and maintenance process for boilers.
Mark Lebus, Managing Director of LC Energy, said:
"The beauty of our new integrated service is that any issues with the operation of biomass boilers can be addressed and customers can feel confident that they have the ongoing support of committed specialists through every stage of the process, whether it be specifying and supplying the correct fuel for a particular boiler or ensuring that a boiler system is appropriately installed in the first place.
"The quality of the wood fuel is crucial to the performance and reliability of the biomass boiler and there have been cases where some suppliers have not met these standards, leading to problems with boilers. Now that we are involved in the sourcing and maintenance of the boilers, as well as supplying the fuel, we can ensure a seamless and reliable service to customers.
The priority for our company is to provide complete and fit-for-purpose biomass solutions with after-sales service and fuel supply. In the few months since the contract was signed, there has already been considerable success in the form of two 199kW installations, Birtley House Care Home and Tormead Independent School, as well as six domestic installations and a long enquiry list for service and maintenance contracts."
Operating across the South and East of England with an established base of public, private and commercial clients, LC Energy has been recognized for supplying sustainably harvested and locally sourced wood chip fuel.
Mike Barnsley, Managing Director of Ecolyf, retains a 20 per cent interest and will continue as LC Energy's Head of Engineering. "I'm really excited about this partnership. The two businesses are so complementary and now our customers have the assurance of dealing with a company of a much larger magnitude, one with a pool of technical resources and a considerable infrastructure.
"My existing customers are delighted. We ran a very personal service installing and maintaining biomass boilers but were always conscious of the fact that they require good quality fuel to run efficiently. Now, our customers can be reassured that this comes as a given."
With demand increasing by over a third in the last year, LC Energy has set themselves ambitious new business targets. New government developments including the Renewable Heat Incentive are expected to further increase biomass's popularity.