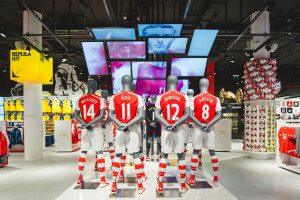 A Scottish design company is rounding off a successful year after completing major works for clients including Arsenal Football Club, Team England at the 2014 Commonwealth Games, BBC Scotland and The Famous Grouse Experience.
With a growing reputation in experimental design, 442 Design create specialized designs for the retail, leisure and food and drink industries. The firm's managing director, David Dunn, hopes that recent projects will highlight the company's high standard of work and encourage more commissions inviting design on an international scale.
The seven-figure redevelopment project at the home of Arsenal Football Club saw 442 Design transform The Gunners' London flagship store into a world-class retail destination. "Our brief was to create a memorable shopping experience," explains Dunn. "We took the classic style of Arsenal and mixed it up with the street edge of their new kit sponsor Puma. We were also challenged to maximise sales on match day by improving the store layout and traffic circulation."
In addition, 442 created various incentives for fans to visit on non-match days also. The new store features the latest in audio visual technology which includes video walls, surround sound and 'experiential' changing rooms, with each room delivering different match day sights and sounds for customers to enjoy. "One resembles the changing room and players tunnel at the Emirates stadium," says Dunn. "We have actual audio recording of the players shouting and encouraging each other before the match. Customers love these and queue up for their favourite".
At the 2014 Commonwealth Games the company brought the England team 'home' by creating designated Team England areas in the athletes' village and around Glasgow's city centre.
Working for The Famous Grouse Experience at Glenturret Distillery in Perth, Scotland's oldest and most visited working distillery, they installed a tasting bar and helped to create a new-look visitor tour that was opened by The Earl and Countess of Strathearnin May.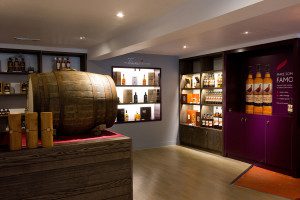 Most recently, the team was commissioned by BBC Scotland to design a presentation and audience holding area. Utilising the ground floor of BBC Scotland's waterside headquarters, 442 created a unique new space entitled 'The Bridges'.
Completing the project in September concluded a year of significant and steady growth for the company. "Our strength comes from our approach," says Dunn. "Before we design we try to understand the business requirements and specific values of our customers. There's always something unique about any brand or product that can be communicated to create a point of difference for customers. People respond to detail and engaging stories and our clients seem to relate to this approach."