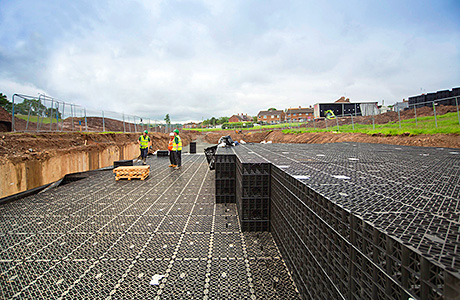 POLYPIPE, a manufacturer of sustainable drainage and water management products, has received approval from the British Board of Agrément (BBA) for its Polystorm-R geocellular system, one of its most innovative and environmentally-friendly water management solutions.
Polystorm-R is designed for use in trafficked and loaded applications such as car parks and access roads, thanks to its compressive strength of up to 61 tonnes/m², and has a proven design life of up to 60 years.
The geocellular system is manufactured from more than 90% of carefully researched and selected recycled material.
Emma Nicholls, Marketing Manager at Polypipe, said, "We are thrilled to be awarded BBA Approval for Polystorm-R, a product which provides excellent performance as well as great environmental benefits.
"This latest third party certification is an example of how we go to great lengths to help our customers meet current legislation and environmental targets with ease."
Polystorm-R is part of the wider Polystorm range of water storage cells.
The light weight nature of Polystorm modular cells brings many benefits to projects including ease of handling, speed of installation and low transportation costs. Due to the modular construction of the Polystorm range, attenuation and soakaway solutions can be designed and installed to overcome almost any site constraint.