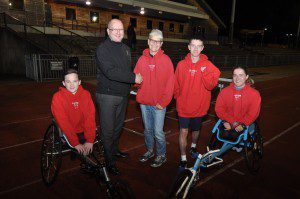 PROPERTY maintenance and refurbishment specialist Novus Property Solutions has announced that Glasgow-based Red Star Athletics Club is the winner of its Grand Giveaway.
Contractor Novus called on Glasgow's sports clubs to apply for the £1,000 prize after staff at the firm's Roystonhill office were so inspired by the Commonwealth Games, which were held in the city earlier this year.
Novus wanted to mark the event by supporting a local sports club and the team was inundated with applications when the giveaway opened. After careful consideration, Red Star Athletics Club, which has been supporting athletes of all abilities and disabilities for 25 years, was named as the winner.
The club, which trains at Crownpoint Sports Complex, has about 60 members of all ages who participate in a range of athletics and sports including wheelchair racing, race running and club throw.
Many of the club's members have achieved success at national, international, Paralympic and Special Olympic level. Two current Red Star wheelchair racers – Sammi Kinghorn and Meggan Dawson-Farrell -competed in this year's Commonwealth Games, while former member Libby Clegg, won gold in the women's para-sport 100m.
Club secretary Janice Eaglesham said, "All of us at the club are delighted and honoured to have been handed this funding from Novus – it really means a lot to us. The £1,000 will be used to support the athletes by replacing the club kit. Our athletes love their kit as it gives them a sense of identity and belonging, so this will make a huge impact on our members both now and in the future."
Novus' strategic operations manager in Scotland, Derek Ferguson, said, "Red Star Athletics Club stood out to us because it supports a wide range of abilities and has a long history of making a positive impact on the lives of its members."