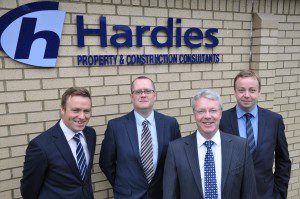 HARDIES Property & Construction Consultants has appointed a new Commercial Property Surveyor to cover Fife and the Lothians area.
Paul Carr joins the firm, bringing just short of 20 years experience in commercial property, gained from both the private and public sectors. Having spent his early career in the public sector working  with various bodies/agencies, Paul has worked in the private sector since 2000, firstly, with Lloyds Bank and, for the last seven years, has been with DM Hall Chartered Surveyors.
Paul is experienced in all aspects of General Practice surveying, including valuation, agency, landlord & tenant, property management and rating. His particular specialism is in the valuation of commercial property for secured lending, having in recent years undertaken valuations for all of the major lenders in locations the length and breadth of Scotland.
Said Paul, "I am absolutely delighted to join the Hardies team at this time. Hardies is an extremely long established and professional surveying firm well respected throughout Scotland and I am very much looking forward to further developing the commercial property sector of the business by advising existing clients and developing new contacts and opportunities for the firm.
"Whilst my focus will, in the first instance, continue to be East Central Scotland Hardies have the geographical spread of offices and the ability to provide national coverage too."
Paul, who is an Associate Member of the Chartered Institute of Arbitrators (ACIArb), has additional expertise in representing both landlords and tenants in rent review and lease renewal negotiations.
Commenting on Paul's appointment, Jim McArthur, Hardies Business Development Partner said, "Securing someone of Paul's high calibre and experience will undoubtedly prove to be extremely beneficial to us overall as we move forward in developing our range of services relating to all aspects of commercial property which we offer to the business community. I wish to welcome him aboard and look forward to introducing him to clients and other business contacts."