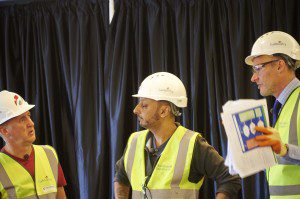 MORRISON Construction Water Scotland held a safety stand down day on 30 September to provide a high impact safety message focusing on a theme of behavioural safety to the 180-strong audience including staff, operatives, clients, suppliers and sub-contractors.
The day started with an introduction from Alan Mansfield, Operations Director for Morrison Construction Water Scotland, before handing over to Paul O'Donnell, Senior H&S Advisor, Scottish Water who reinforced the message of consistency within the field of Health & Safety as well as the sense of responsibility each and every individual has with regard to Health & Safety.
David White, HS&S Director, Galliford Try then gave an empowering speech, challenging the audience to think about their role within health and safety not only in the workplace, but also in their home life too.  Following these introductory sessions, the day was then passed over to DRAMANON, drama-based experts who used the power of acting to convey the serious messages of the day.
The day provided a chance for people to take time out of their normal daily routine to focus on health and safety – learning, sharing and asking questions that will help Morrison Construction maintain an environment where care for its' people, and those who work with them, is their top priority.
The key focus was to encourage employees to challenge very often ingrained beliefs that affect behaviours, by asking the individuals to stop and engage their minds, before their hands. Morrison Construction supports anyone who raises a genuine safety concern on site and encourages staff and operatives to assess their workplace and find any hazards, assessing the effects these might have on themselves and the people they work with, and then applying the correct controls.
The event continued with breakout sessions, trade stands and live demonstrations in and around Hampden Park.
Alan Mansfield, Operations Director, Morrison Construction Water Scotland said, "The day was not about lecturing people or off-loading a mass of information that is forgotten as quickly as it is received or sitting through endless PowerPoint presentations.  We want these Stand Down Days to inspire staff to change their attitudes to safety."