Structural defects are an issue with a significant number of non-traditional and prefabricated concrete (PRC) post war houses, as well as newer high rise blocks of flats. Is the only solution to demolish and rebuild? Not according to Hanson Structherm's marketing executive Damian Haigh.
Damian tells Project Scotland why Structherm's structural external wall insulation (SEWI) system is a cost effective method of extending the life of a defective property while improving its external appearance and thermal efficiency.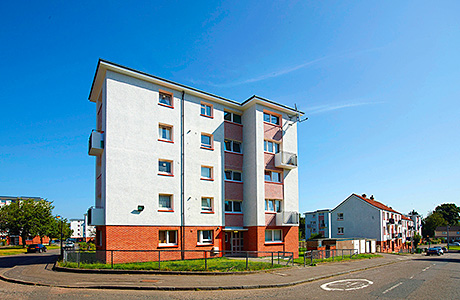 MANY homes in Scotland suffer from inadequate thermal insulation, significant thermal bridging and subsequent condensation problems.
Most houses constructed before 1920 were built with solid walls while most built between 1930 and 1985 have a cavity but no insulation. Add to this the hundreds of thousands of non-traditional properties constructed during this time scale which all have poor insulation and you start to understand the scale of the problem.
Over time, these homes have also been deteriorating leading to a gradual reduction in structural effectiveness, particularly at construction joints and junctions between components. This is exacerbated by poor concrete cover and/or chloride contamination leading to corrosion of reinforcement in the structural elements.
Weather tightness may also be severely reduced.
Structural External Wall Insulation (SEWI) offers the perfect solution.
Hanson Structherm's SEWI system was specified by West Dunbartonshire Council (WDC), which is upgrading its social housing to bring it up to Scottish Quality Housing Standards by 2015. WDC prepared a tender document for a design and build contract within which there was an employer requirement for a structural insulated cladding system.
The contract at Rosshead, Alexandria, comprised five-storey blocks and three-storey blocks, which were found to be of structurally sound no-fines construction with failing render.
This construction type also suffers from extremely poor thermal performance.
WDC wanted to refurbish the blocks in order to extend their life by 30 years to comply with their long term Local Housing Strategy. As part of the external works the council required a solution that would solve the structural problems associated with the failing concrete infill as well as improve the thermal performance and external appearance of the buildings.
Structherm's SEWI system and Hanson's Wonderwall were specified for the external refurbishment of the buildings as they were able to offer solutions to each of WDC's requirements.
The SEWI system is based on the performance of a unique, lightweight stainless steel wire space frame with a 105mm phenolic insulation core.
The vertical panel spanning method was used to provide a rigid, continuous envelope around the upper floors of the buildings.
To complete the system a 15mm layer of fibre reinforced basecoat followed by a 10mm layer of dash receiver and dash aggregate were applied.
This finished layer provided the buildings with an attractive façade that fully met the client's aesthetic expectations.
Wonderwall, an insulated real brick slip cladding system, was specified on the ground floor and to detailing areas because of its robustness and impact resistant properties. The system comprised of a rigid 25mm thick phenolic insulation panel pre-bonded to a brickwork coordinating carrier sheet plus an additional layer of 60mm phenolic insulation.
Autumn Glow brick slips were then fixed to the carrier sheet using a purpose made adhesive.
The soft warm red colour of the bricks was specified to complement other buildings in the surrounding area.
The use of SEWI means that the building's thermal performance has improved greatly with the U-value of the walls dropping from 1.83W/m2K to 0.21W/m2K, reducing both CO2 emissions and on-going energy costs for residents.
The SEWI has also stabilised all the failing concrete infill and anchored back areas of loose material. The fresh, contemporary design of the buildings has transformed the appearance of the blocks.