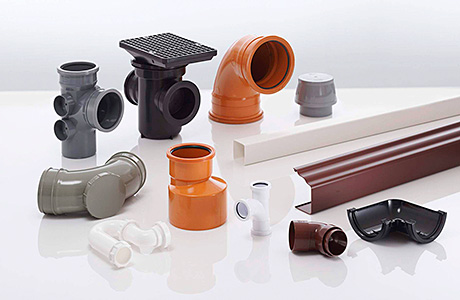 Brett Martin Plumbing and Drainage is a division of Brett Martin, the UK's largest independent building products manufacturer.
David Sturrock, Scottish Regional Sales Manager, explains why the firm remains at the forefront of the industry and how they managed to develop a solid reputation that has become synonymous with quality, value and service.
How did you become involved in the industry?
I became involved by chance, when a friend who was working for Brett Martin had just secured a job in the oil industry. He gave me the contact details and I applied – 26 years later and I am still here. I started my career in Brett Martin as Team Leader and have steadily progressed to the position of Scottish Regional Manager.
What sectors do you work in?
Brett Martin supply an extensive range of above and below ground drainage systems to a wide spectrum of sectors within the Scottish construction industry including, Commercial, Residential, Infrastructure, Healthcare and Education.
Our portfolio includes domestic and commercial rainwater systems in five profiles and a variety of colours in addition to Cascade, our innovative cast iron style rainwater and soil systems.
Soil and Waste systems encompass both Solvent Weld and Push-fit assemblies, Traps, Universal Overflows and Compression Waste. Hot and cold water supply solutions include Plumbfit and Plasson. Plumbfit is a totally flexible plumbing system which is suitable for all hot and cold plumbing and central heating systems. For water supply pipework, the Plasson range contains pipe coils and a full range of compression fittings. The company's comprehensive underground drainage range incorporates pipes and fittings in six diameters from 110mm to 400mm, extending up to 600mm diameter for the Twinwall surface water system as well as Access Chambers, Gullies, and Linear Drains. In addition our range includes Grease Traps, Sewerage Treatment Systems and Rainwater Harvesting Tanks. The recent addition of Attenuation Crates completes the offer.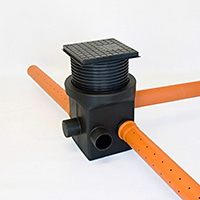 What makes your products stand out?
Our company sets the standard by continuing to bring ground breaking innovations to market which are usually developed in response to demand or by troubleshooting an issue we have seen the industry face. One recent example is Brett Martin's Dual Connection Road Gullies which feature an innovative stepped spigot outlet which is easy to adapt from a 160mm (OD) outlet to a 178mm (OD) outlet by simply cutting along the defined cutline. For our merchants and distributors, the new design means fewer individual stock lines need to be carried.
Another example is the Sampling and Distribution Chamber, the newest addition to Brett Martin's Sewerage Treatment offering. Providing for the distribution of pre-treated sewerage effluent from domestic dwellings connected to a septic tank, the chamber works by discharging fluid effluent through percolation pipes to an underground disposal area, via an infiltration trench or bed. The robust and sturdy polyethylene chamber also serves as a sampling chamber to allow for testing of the treated effluent. The unit has been designed to integrate with other Brett Martin component options to provide a complete distribution system.
Another innovation which sets Brett Martin apart is undoubtedly Cascade. This range of gutter and downpipe profiles have been designed to replicate traditional cast iron detail in every way. Manufactured from modern plastic materials, Cascade delivers all the heritage features demanded in the construction industry today, at a much more accessible price to buy and install. In fact, Brett Martin has developed the most extensive cast iron style rainwater and soil offer available on the market with the widest selection of profiles, period accessories, hoppers and heritage colours.
Our 150mm-300mm winwall Multi-fittings are unique in that they are BBA approved for use with a variety of other manufacturer's pipes making them a versatile solution for Highway, Airport, Rail or Agricultural projects.
What are some of the most memorable projects you've worked on?
There have been a number over the years including one where we supplied a substantial amount of Cascade to a prestigious housing project near Gullane, East Lothian. With houses valued at over £1 million, by the end of the build over 50% of them had opted for our Cascade range over other rainwater systems. Another memorable one was where we supplied the Cascade rainwater system to the James Bond film Skyfall, which was used for the explosive end sequence when they return to Scotland and his old home!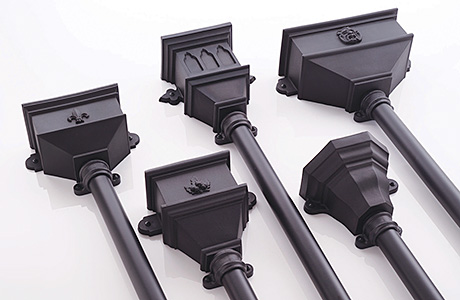 What changes have you seen in the industry over the years?
I have seen the acquisition of numerous independent merchants by the Nationals over the years, and also a growth in new independents filling the void. There is now more competition from other suppliers, and Health and Safety has taken a key role within the industry.
What have been some of your biggest challenges and greatest achievements?
Since the 2008 financial crash, we have managed to sustain and increase sales over the past six years. Throughout this turbulent trading period, we have fulfilled our customers' requirements with regards to quality, cost, performance and safety, and it is testimony to both the company and staff that they have successfully maintained the loyalty and support of our merchant base and contractors in the marketplace.
What are your hopes for the future?
I hope we continue to see a steady growth from the industry and exceed our customers' expectations over the next 18 months.
Best piece of advice you've been given?
The best piece of advice I was given and still use today is; "If you say you are going to do something, do it!"
How has the company grown over the years?
The company has steadily invested in "state of the art" manufacturing facilities in Co Antrim and Derbyshire. A 100m tall wind turbine has also recently been installed at Brett Martin's head office and main manufacturing facility in Co. Antrim. This environmental initiative represents an investment of over £2m and has reduced carbon emissions at the Mallusk site by 4,000 tonnes per year and energy consumption by 20%.
At Cumbernauld, the company's distribution hub for Scotland and Northwest England, we have increased our yard to accommodate new products and have expanded our vehicle delivery fleet. We are currently recruiting more staff to help with the increase in sales. Brett Martin is the UK and Ireland's leading independent building products manufacturer with an impressive range of plastic sheets, factory engineered rooflight systems in addition to our plumbing and drainage systems and exports to over 70 countries.