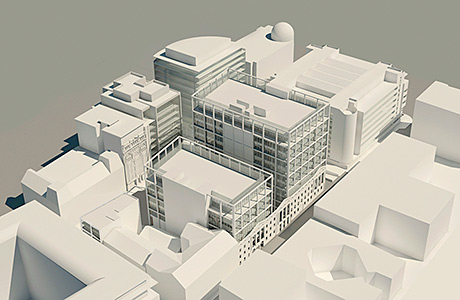 BAM Properties and Taylor Clark Properties have announced plans for a £100 million Glasgow office development which could support almost 3000 jobs.
Their joint venture is to seek planning permission from Glasgow City Council for the 300,000sq ft. of space in Atlantic Square.
The proposed development on a key site in the middle of Glasgow's International Financial Services District, will comprise two commercial buildings of ten storeys and six storeys, with ground floor retail space in both.
A third building will comprise retail and residential accommodation.
Michael Smart, Development Director, BAM Properties, said, "This is a strategic alliance between Taylor Clark which owns the site and BAM as a developer and contractor with a substantial track record in bringing attractive sustainable developments to the market.
"We have carefully researched the supply pipeline and have identified a strong undercurrent of demand from top grade companies and organisations. Together, we will create a state-of-the art development that will meet the requirements of forward thinking business tenants and investors."
Jon Brand, Managing Director, Taylor Clark Properties, which has developed Meridian Court, The Equinox and City Point 1 & 2 office schemes in Glasgow, added, "A lack of Grade A space is limiting investment in the city and with rents stabilising we believe the time is right to combine our expertise to deliver this striking mixed use development."
The design of the new development was undertaken by architects Cooper Cromar and will include the retained façade of the listed warehouse buildings on the site that were built in the early 20th century.
BAM Design are undertaking the structural and environmental design and post planning architecture.
Work on the development will start immediately, subject to necessary planning consents.
Meanwhile, BAM Properties has sold its commercial property development CONNECT110Ns in the heart of Glasgow's premier commercial and retail district to Deutsche Asset & Wealth Management (Deutsche AWM).
The sale was completed in September for a price of approximately £70m.