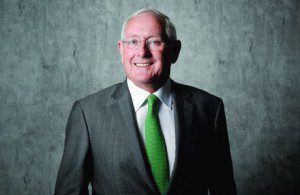 THE Laing O'Rourke name is synonymous with some of the world's most iconic construction projects – The London 2012 Olympic & Paralympic Park, Canary Wharf, Heathrow Terminals 2A and 5, Port Botany Terminal, Brisbane Convention & Exhibition Centre, and Hong Kong Metro to name just a few.
Founder and chair of the group, Ray O'Rourke is also an iconic figure in the industry, despite his well-known reluctance to step into the spotlight. Attendees at Construction Scotland's inaugural annual conference next week in Glasgow (7 October) will therefore be queuing up to hear his keynote address which will focus on innovation.
Irishman Ray – born in Co Mayo in 1947 – founded R O'Rourke & Son in 1977 and commenced trading the following year. The business acquired the construction arm of John Laing PLC in 2001, and with the acquisition of Barclay Mowlem in 2006, created today's extended international engineering and construction group. In 2011 he was awarded an honorary knighthood in recognition of his services to construction.
Working across the UK, Canada, the Middle East, South East Asia and Australia, Laing O'Rourke's operations span a range of sectors including buildings, transportation, power, mining & natural resources and water & utilities. Ray chairs the Group Executive Committee and is responsible for overseeing the strategic direction and operational management of the Group's business activities.
Ray O'Rourke said, "Innovation has been central to the success I have had throughout my career and I am delighted to accept the invitation to be the guest speaker at the launch of the Construction Scotland Innovation Centre.
"The fact that the Innovation Centre is working in partnership with 11 Scottish universities will make a significant contribution to delivering transformational change in the construction industry in Scotland – a vision that resonates with Laing O'Rourke's vision to 'challenge and change the construction industry worldwide' and I have no doubt that developments here will impact on the rest of the UK and far beyond as this research and development starts to come to fruition."
Ray O'Rourke will deliver the keynote speech at the Construction Scotland Annual Conference at the Grand Central Hotel, Glasgow on 7 October 2014. The event will be chaired by BBC Scotland's Sally Magnusson.
Register here to attend http://www.scottish-enterprise.com/events/2014/10/construction-scotland-annual-conference