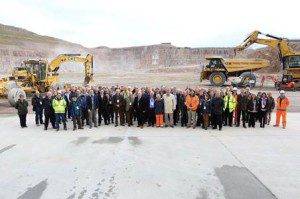 GLENSANDA, located in the Scottish Highlands, is Europe's largest granite quarry and recently celebrated the completion of a new £30 million upgrade of its operation and secured 500 Scottish jobs for the next 25 years.
Aggregate Industries, owner of Glensanda quarry and supplier of high quality crushed granite to markets across Europe, has cemented its place as a valuable exporting businesses for Scotland thanks to the ongoing investment at the site. Accounting for close to 100 per cent of all aggregate exported from Britain and one of the UK's top 15 tonnage ports, the latest investment has resulted in the construction of a new primary crushing machine and a new tunnel for transporting the material from the site and onto waiting vessels for export by sea.
To mark Glensanda's important role within the local economy and its international role as a provider of construction materials – exporting as far as Tampa, USA, and the Baltic states – Aggregate Industries recently invited local dignitaries, members of the community and key customers to view the new facilities and gain an insight into one of the world's largest single quarry operations. The event saw guests witness a rock blast, enjoy a tour of the quarry and view the pride of the company's logistics operations, one of its purpose-built, self-discharging bulk vessels.
CEO of Aggregate Industries, Pat Ward, said, "We are committed to our operations in Scotland and the £30 million investment is part of an ongoing programme of upgrades that will help us achieve our ambitions to increase production.
"Annual production capacity at present is in excess of nine million tonnes and the next step is to produce 15 million tonnes of granite globally as demand continues to increase. The quarry's new 30 metre high crusher house and reclaim tunnel will enable us to reduce the distance the dumpers have to travel to offload aggregate, speeding up the transportation process and allowing us to secure upwards of 500 jobs and their associated benefits for almost three decades."
Aggregate Industries quarries and manufactures construction products at 17 sites across Scotland, employing almost 1,000 people. Supplying granite and asphalt, the products it sells play an important part in the construction and infrastructure projects across the UK and Europe and the company has even recently supplied material for the celebrated Glasgow Commonwealth Games venues. Glensanda has also been the subject of interest on BBC series Coast and the One Show.