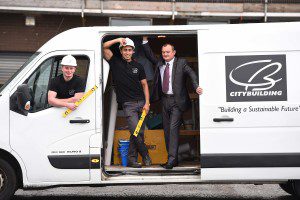 CITY Building, Glasgow City Council's arm's length construction firm, has recruited 81 apprentices this year and offered contract extensions to 127 time out apprentices.
The apprenticeships have been created in construction, painting and decorating, electrical, plumbing and administration. These new positions help to support the delivery of the council's £25 million Glasgow Guarantee, which aims to ensure that every Glaswegian between the age of 16 and 24 has access to a job, training or apprenticeship opportunity.
Ibraheem Kahn (18) from Pollokshields was one of this year's intake of new apprentices. He said, "Gaining the apprenticeship is a really big achievement for me. I found it very difficult to find an apprenticeship but I got lots of encouragement from my support worker. Before gaining this apprenticeship, I volunteered in a carpet company for six months and also participated in a vocational course at City Building's Skills Academy.
"Without this apprenticeship, it would be impossible for me to train to this level. One of the great things about an apprenticeship is you are paid while you learn.Thanks to this, I will achieve an SVQ3 in carpentry and joinery and will be a qualified joiner when I'm 22."
Jordan Turner (18) from Knightswood started his apprenticeship in joinery earlier this year. He said, "I've always wanted to be a joiner and enjoy practical work. I applied last year but didn't get selected so I went back to school for another year, gained some Intermediate two qualifications and was successful this time round.
"I'm looking forward to becoming a joiner.  I think I will be able to complete other qualifications while I'm here and hope to complete an advanced craft or an HNC.  There are definitely lots of opportunities for me".
Councillor Paul Carey, Chair of City Building LLP, said. "These positions demonstrate our continued commitment to investing in Glasgow's young people, providing them with the opportunity to learn a trade and gain meaningful employment. As optimism returns to the construction industry, it is vitally important that we equip young people with the skills needed to develop within the sector and we are happy to offer these 81 individuals the opportunity to create a brighter future for themselves."