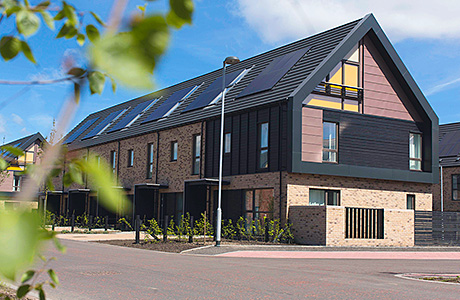 SUPPLYING large volumes of timber within tight project timescales was an essential element of Buildbase Scotland's work with one of the country's largest, privately-owned construction and manufacturing companies, CCG.
The company was commissioned to supply Siberian larch cladding to CCG, a member of the City Legacy Consortium, which constructed 237 homes within the Athletes' Village of the Commonwealth Games in Glasgow. The development has won numerous awards, including recognition for regeneration and sustainability.
CCG's project manager for the development, John Baggley, was keen to involve Buildbase from the outset. He said, "CCG has a long-standing relationship with Buildbase due to their service and quality of materials. When we were progressing work for the City Legacy project, we realised Buildbase would be key in delivering a quality product on time and at the right price."
Buildbase's work began in March 2012 and lasted 12 months, once the timber needed for the construction had been specified by the architect. The Siberian larch cladding was selected for its durability, sustainability and FSC certification.
Wullie Henderson, regional sales manager at Buildbase Scotland, explained the next steps. "We needed to ensure the materials were delivered to the site when needed and we had to stick to a demanding delivery schedule. This involved working closely with the project manager and our suppliers."
Meeting the project schedules was essential and John Baggley added, "Due to the quantities associated with the project, Buildbase needed to make materials available en-masse. Bringing delivery dates forward meant we could complete terrace-specific cladding ahead of schedule on many occasions."
Before the materials reached the site itself, the Buildbase branch at Grangemouth carried out a critical part of the job – the timber was machined by experienced tradesmen in-house at the branch. John Baggley added, "This facility was a key plus as we had several profiles of timber cladding, corner post and window posts for example. As Buildbase has the facility to machine its own timber this ensured all our deliveries were achieved on time and the work completed.
"So we avoided the problem that can happen when sourcing from a third party, where certain materials arrive 'profile specific' which doesn't help the installation process. The supply and service from Buildbase contributed to a successful project, the ability to turn materials around in a few days is always a positive, but with the volume of materials required on this specific project that capability provided no end of benefit."
Buildbase also supplied roof windows, concrete blocks and MDF finishings to the project.