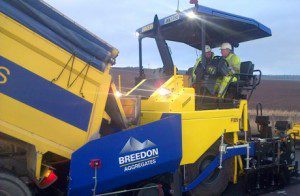 Breedon Aggregates has agreed terms with Barr Holdings to purchase  Barr Quarries Limited for £20.8m.
Barr Quarries employs approximately 130 people and is headquartered near Cumnock, 35 miles south of Glasgow. It operates 11 quarries, five asphalt plants and six ready- mixed concrete plants extending from Dalry in the north to Stranraer in the south and east to Moffat. It has approximately 57 million tonnes of mineral reserves and resources, enough to last about 70 years at current rates of extraction. It also operates a successful contract surfacing business.
Completion is expected by the end of this month and remains subject to TUPE consultations and final due diligence.
In the year to 31 December 2013 Barr Quarries generated sales of £25.5 million with an underlying EBITDA of £2.7 million. The business has performed well in 2014, with year-on-year sales ahead in the first half.
Breedon's board believes Barr Quarries will be an excellent fit for the company. It is fully integrated and will give the Group a fifth self-contained region in Scotland.
Peter Tom, Breedon's chairman, said, "Scotland has played a vital part in Breedon's success and we have made significant investments there over the past four years. With the uncertainties surrounding the independence issue now behind us, we believe our prospects north of the border have never been brighter and we can look ahead with renewed confidence. Our acquisition of Barr Quarries is a clear demonstration of our long-term commitment to this important market.
"Barr Quarries represents a great opportunity to secure some rare assets in a brand- new region, which perfectly complements our existing operations in Scotland. It's an excellent business with a fine heritage, and great people – all of whom we look forward to welcoming to the Breedon family."
Philip Cheevers, Chairman of Barr Holdings Ltd, added, "I am pleased with the sale of our Quarry interests to Breedon. This will give the quarry business the opportunity to further grow and develop under the umbrella of a major aggregates company and we wish them every success. At Barr we will continue to focus on our core Construction business which is performing well and on our Environmental business which has made significant progress over the last few years and is trading very strongly."