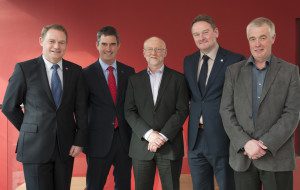 BRE Trust, the largest UK charity dedicated specifically to research and education in the built environment, has announced it is set to continue its investment in Centres of Excellence at two Scottish Universities.
The announcement secures the future of crucial research currently being carried out at the BRE Centre for Energy Utilisation, located at Strathclyde University and the BRE Centre for Fire Safety Engineering located at the University of Edinburgh. Specifically, at Strathclyde University, research areas include energy supply in future cities, energy demand management, low carbon buildings and sensing technologies to support new service delivery and intelligent control, whilst at the University of Edinburgh, research areas include building fire response modelling and the development of new design, materials, structures and fire protection systems.
Across the UK, the BRE Trust collaborates with five University Centres of Excellence and since the educational investment programme was launched in 2006, has given support to over 140 PhD studentships and 75 staff and invested in £40m research portfolio.
Rufus Logan, Director of BRE Scotland said, "This latest investment, which represents a significant six figure sum, secures the continuation for the next five years of education programmes with the BRE University Centres of Excellence at Strathclyde and Edinburgh, providing funding for PhD students and those studying for Masters degrees. The investment also re-affirms the Trust's objectives of providing research and education for the public good in the built environment for the development of a world class research capability with wide outreach and collaboration."
The BRE Trust also announces that Professor Albert Simeoni and Professor Joe Clarke have been appointed as the new Chairs of the Centres of Excellence at Edinburgh and Strathclyde Universities respectively.
Professor Albert Simeoni said, " Our Centre of excellence is conducting pioneering research, which seeks to ensure that the buildings of today and tomorrow are safe from fire for those who live and work in them."
Set up in 2002 to advance knowledge, innovation and communication for public benefit, the Trust uses all profits made by the BRE Group to fund new research and education programmes that will help to meet its goal of building a better world together. Over the course of the year, the Trust will commission further research into the challenges faced by the built environment and publish project findings which act as authoritative guidance to the construction industry.