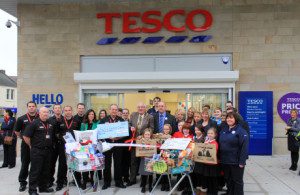 PROVOST of Fife Jim Leishman has officially opened the brand new 52,000 sq ft Tesco superstore in Dunfermline created by Barr Construction.
The new store features over 500 car parking spaces and has been built using special external treatments to help it blend in with surrounding buildings. The store will also make use of the local authority's district heating system which converts methane produced from up to 40,000 tonnes of local food and garden waste into renewable energy and heat.
The Barr team joined store manager Richard Moir and local senior fire officer Iain Vincent and crew to cut the ribbon and welcome customers from the community to the new store.
Andy Ferguson, operations manager at Barr Construction, said, "We have enjoyed working on this keenly anticipated store for Dunfermline which will provide a range of facilities and services for the local community. Barr Construction has worked on a number of elevated stores like this one for Tesco and following the successful completion of the Dunfermline project, we look forward to the exciting next stage in the relationship we have forged with the retailer over the past two decades."
Richard Moir, store manager, said, "We are really excited that the launch of the new Tesco store in Dunfermline is here. As a team we have been working incredibly hard over the past few weeks and months to prepare and offer Dunfermline a larger range and increased convenience. We wanted to make sure that everything was perfect when we welcomed our first customers in to store."
Barr Construction has recently completed further Tesco superstores in Linwood and Stourport.