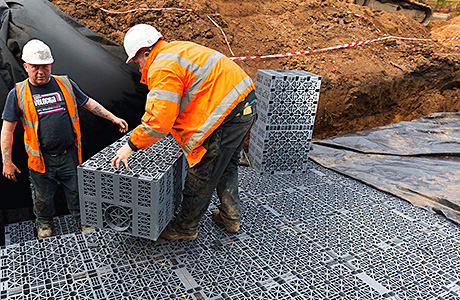 WHEN it came to managing excessive rainfall with the creation of a soakaway at a new luxury apartment complex in Nottinghamshire, the solution lay in a geocellular stormwater management unit – AquaCell Prime, from Wavin.
Built on the site of an ex-nursing home, the Christonian Court development in West Bridgford has been designed by CBP Architects and features 23 stylish apartments. In order to manage surface stormwater contractor D.L Rhodes & Son specified the AquaCell Prime system to help reduce the flooding risk.
Manufactured from specially reformulated, recycled material for trafficked and deep applications, 220 AquaCell Prime units were specified below a parking area at the rear of the complex in order to create a 5m x 10m x 0.8m deep cellular unit soakaway. AquaCell Prime has been specifically designed for use in areas subject to regular traffic loading such as car parks.
The units were installed at a depth of 1.8 metres. Once clipped together, they were tightly wrapped in a permeable geotextile therefore forming a soakaway construction.
The BBA-approved AquaCell system is available in a range of four units of differing strengths which include AquaCell Eco, Core, Prime and Plus which can be mixed and matched to create the optimum installation for a range of applications.