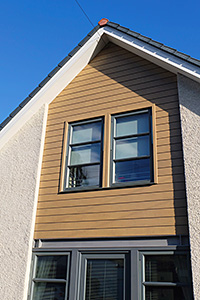 THE world's first ever property to be clad in Accoya, the modified wood, has proven just how tough and resilient the product is following a successful review eight years after installation.
Architect Gordon Aitken chose Accoya cladding for his home near Glenrothes, Fife, after being impressed by the environmentally-friendly wood's low maintenance and aesthetic qualities.
Since the property was built in 2006 with pre-commercial laboratory produced Accoya, the cladding has required no maintenance. Initial inspections in 2010 revealed no signs of rot or decay and similar checks this year returned the same results.
The cladding hasn't suffered with wear or decay, despite the harsh environmental conditions.
Gordon Aitken, architectural designer and property owner, said, "I had initially chosen Accoya cladding as I wanted a material that required minimal maintenance but offered high aesthetic qualities to complement the design of the building.
"Accoya offered all of this and more. The product is Class 1 durability rated and comes with a 50-year guarantee when used above-ground. Accoya is also environmentally friendly, non-toxic, and has a significant reduction in shrinkage and expansion compared to its competitors.
"The appearance with the Sikkens paint finish I had chosen remains consistent on both the Southern and Northern facade of my house. It still looks as good as new."
Bryan Crennell, director of sales and marketing for manufacturers Accsys, said, "The coated Accoya cladding still looks fantastic despite having no maintenance throughout its eight years. This demonstrates just how strong and long-lasting Accoya is and provides a wonderful current example of the product's durability."
Completed in July 2006, the cladding was profiled, factory coated and installed with a translucent Sikkens Natural Balance coating system.
The coating is backed by a 12-year guarantee, while the wood itself will last at least 50 years, ensuring minimal maintenance is required.